Prior to the start of the new school year, I always like to reflect on my relationships with my parents from the previous years. What could I have done better?  How can I improve?  How can I deepen my relationships with both parents AND students?  These aren't always comfortable questions to ask myself because at some point they lead me back to my mistakes and weaknesses and confronting my shortcomings isn't always easy.  However, being willing to recognize and admit my areas of weakness always leads to change and improvement and that's ALWAYS a good thing!!!
While I think my parent relationship game is pretty strong, I will admittedly tell you that my communication could be stronger.  Calling parents with good news, sending home announcements ON TIME, notifying parents of small changes in the class, etc.  What I might think is a small change in my classroom and not worthy of an announcement, my parents may think otherwise.  What I think is on time should maybe mean sending home a week earlier.  I'm always looking for ways to improve and grow in ALL areas of teaching.
I was recently collaborating with a group of teachers and a big part of our conversation centered around parent communication.  I wanted to share some things we talked about, offer a few suggestions, and share some solutions with you, too!
Oftentimes, a breakdown in communication occurs when parents have expectations that we don't meet due to a lack of understanding on our part.  Maybe our parents expect us to communicate via email every week….or they want a phone call home…or maybe they're expecting a newsletter or a reminder note or even a parent/teacher conference.  Our idea of consistent communication may greatly differ from theirs.  Start the year by clearly explaining HOW you will communicate.  It can be a statement as simple as, "You can expect to receive a class newsletter every Tuesday informing you of important events, dates, reminders, and what we're learning in the classroom. I will personally call you or send you an email if there is something pressing we need to speak about directly.  Feel free to schedule a parent/teacher conference if there is anything you would like to discuss."  I include a blurb similar to this in my back to school parent information handouts my parents receive on Meet the Teacher night.
One thing I've learned through my 15 years in the classroom is that parents love to know what their babies are doing in the classroom.  What are they learning?  Who are their friends?  How are they behaving?  I find this to be especially true in the primary grades.  By the time our kids get home in the afternoons, they are spent.  When parents start asking questions about their day, a child's typical response is, "My day was fine", "We played", etc.  Parents like details!  I'm a parent myself.  If I can't be with my child during the day, I'd at least like an idea of what he's doing when I'm not around.   It doesn't have to be a super detailed account, just something to let me know what's going on.
The Seesaw app is a great communication tool for keeping parents informed on their child's school work.  Seesaw is an easy-to-use platform that allows you to upload student work and pictures and share with parents immediately.  Parents can also leave comments for you AND their child!  All of the information you share with parents is between you and the parent so everything stays confidential.  This is a great way to quickly and effectively communicate with parents and give them a glimpse into their child's day!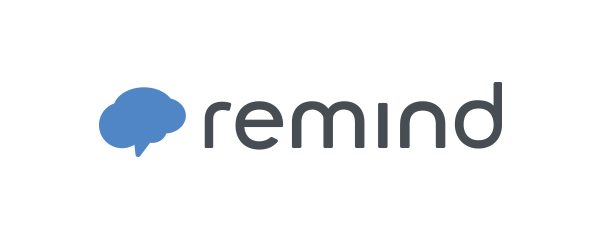 I also like to use Remind to keep parents informed.  Sometimes I'll completely forget to send home notes or reminders and Remind allows me to quickly shoot a mass text to all of my parents and give them the reminder in a timely fashion.  My boys teachers also used Remind and would send us messages for picture day reminders, field trips, etc.  It was always SO helpful to get these as a parent because I had a hard time remembering to check their folders at the end of the day.  In all honesty, I was just as spent as they were and checking their folders wasn't always on my "must-do" list 🙂  However, I ALWAYS have my phone on me and those quick reminders on the app were always so helpful.
Sending home a class newsletter has also been a great communication tool.  I always wonder if parents read them, but as soon as I don't send one home, I always get  phone calls and emails wondering where it is 🙂  I like to send home a hard copy AND a digital copy of our newsletter.  This typically ensures that each parent will see the information I need them to get whether it be in a physical format or via email/text/etc.  I created these editable newsletter templates to make parent communication a breeze.  Just pick a template, start typing, and print or send via text/email/etc.  Easy to edit and send.
And just to make extra certain the hard copy is received if that's all I choose to send, I'll place one of these reminder bracelets on my student's wrists to notify parents that a newsletter is waiting for them in their child's backpacks.  Like I mentioned earlier, I didn't always remember to check my boys' backpacks, but if they had been wearing home visual reminders, I would've been more apt to check them or they would've been more likely to remind me to look!
As much as parents like being in the loop, they love hearing GOOD things about their child even more.  They want to hear about WHO their child is in the classroom as much as they want to know WHAT they are doing.  Don't forget to send home positive notes and affirmations.  Whether it be through email, text, or even handwritten letters, find the good in each child and sporadically send home notes highlighting some of their best attributes or sweet anecdotes.  As a mom, I love when my boys' teachers communicate funny stories or tell me something specific about who they are as a student & friend.  This tells me that they notice my child, they value him, and they "see" him.  They're not just another kid in the class or a piece of data on paper.   There is nothing more important to me than knowing my child is valued and these little bits of communication make me feel like they're loved.
You can download these FREE positive parent communication slips if you're interested.  Just type in your message, print, cut, and send home!  SO easy! (Be sure to install the font KG MISS KINDERGARTEN to edit the text on these notes)
Hopefully these practical, yet effective, tips help you start off the year on a strong note with parent communication.  If you're interested in learning a little bit more about my passion for building strong parent/teacher relationships, head on over to this blog post to read about my five tips for establishing those connections.
How do you effectively manage parent communication?  Would you add anything to this list?  Would love for you to comment and let me know your suggestions or what's worked best in your class, too!
Simplify Your Teaching
Join our community for tips, tricks, and resources to help you simplify your teaching!